Charlie's Chocolate Crispy Cakes
Charlie's favourite that his Mummy used to make for him. When he was poorly with the treatment he would always eat these!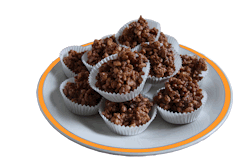 2 ozs. Butter
3 tablespoons of golden syrup.
4 ozs. (1/3 block) dark cooking chocolate.
4 ozs. Rice Crispies.
cake cases – makes approx 18 cakes.Melt chocolate in a bowl over hot water add the butter and golden syrup (don't allow mixture to boil) cool slightly then coat the rice crispies with the mixture, spoon into cake cases and leave to cool.